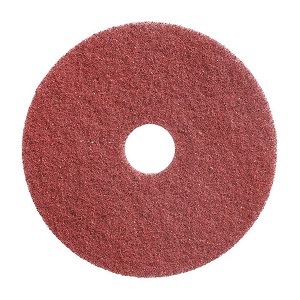 Twister Diamond Abrasive Pads For Stone, Marble, Granite, Concrete, 16 Inch Red Pads, 400 Diamond Grit For Very Aggressive Applications, Removes Surface Coatings, Polishes Away Surface Deformities, Case of 2 Pads, 435216. Twister Red Pads with their 400 Diamond Grit makes quick work of surface coatings, removes old surface deformities and restores a clean surface. For a polished, shiny brilliance, then use the 3 Step Twister System below: Used in sequence, the Twister System of White, Yellow and Green Pads will turn a dull, rough, scratched stone, marble, granite or concrete floor into a brilliant, shiny polished floor that does not require any wax or other coatings. This new dynamic, low cost method works with your existing floor buffer, scrubber, auto scrubber or high speed burnisher equipment. No need to rent or buy special machines. It really works!
How much floor area will the average Twister Pad do?
Each Twister Pad will average about 30,000 square feet of floor coverage before being thrown away. Since many floor restoring applications require up to 10 passes, you may consider that each pad will do about 3,000 square feet of floor. That's 10 passes over 3,000 square feet for a total usage of 30,000 square feet approximately.