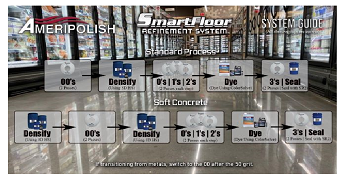 It can be hard to decide what system to use until you discover the simplicity of the SmartFloor™ Refinement
System. Using truly groundbreaking, "composite resin abrasive" patented technology, the SmartFloor™
Refinement System delivers the fastest, most jaw-dropping results in just five easy steps: Double Zero (00),
Zero (0), One (1), Two (2) and Three (3). Once again, where SmartFloor™ Refinement System stands out is
when switching abrasives between steps, taking virtually seconds to detach and reattach pads that are
secured to Velcro on the Universal Blade Holders. Even on a large machine, one person can operate the
entire system safely.