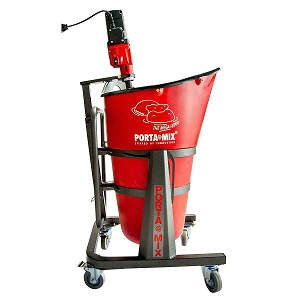 Mix compounds, including cement screeds, overlay, underlay, textured coatings, sealants, adhesives, epoxies, resins, pre-tinted material and other self-leveling compounds.
Ideal for consecutive batch mixing without downtime, as well as mixing in bulk and dispensing into the Pelican Cart or small containers.
Dust extraction port collects dust when connected to a dust extraction vacuum
Integrated hinged canister lid prevents splatter
The "Easy-roll Trolley" and the balanced "Easy-tilt Cradle" let you pour and spread material at the same time.
Multi-stage pours to achieve a thicker screed are often not necessary.
Wheel covers ensure that the casters remain free of screed splatter.