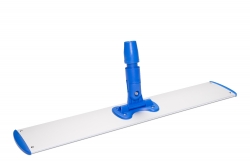 Cleaning Pros Who Mop Large Open Spaces Know Nothing Beats This Frame.
Our new design is durable yet lightweight and will keep you cleaning efficiently for years. Made from heavy gauge aluminum and with a full 360 degree swivel!
Molded plastic hook and loop which sits in recesses in the aluminum will never separate from the frame.